You Glow Girl: Easy Solutions for Problematic Pigmentation
Today's Blog comes from our guest
Jessica Reimer: Senior Marketing Manager at USANA Health Sciences.
Too much of a good thing can sometimes be not so wonderful.
Melanin production, our body's UV-defense mechanism, is great at protecting our
skin from damaging effects from the sun. But overproduction can lead to unsightly spots and dark patches, causing us to look much older than we really are. These pigmentation problems are very common and can be caused by not only the sun, but also hormones and inflammation.
Luckily, there are three easy steps to make sure your skin looks bright and lovely year round!
Vitamin C + Licorice Root
Vitamin C is a first class antioxidant and a common ingredient in skin care. But not all Vitamin C products are created equal. When in a stable formula, Vitamin C and help brighten the appearance of dark spots and protect from future visible damage.
All Sensé products contain an exclusive Vitamin C blend called Proteo-C ™, offering powerful beauty therapy to even the most troubled skin. Another known skin lightener is licorice root. Licorice root has been shown to disrupt melanin synthesis, helping the skin to appear brighter. When used together with Vitamin C, these two create the perfect illuminating duo. Try Sensé Perfecting Essence. This gentle formula contains both Proteo-C™ and Licorice Root Extract making it extremely effective and is safe for sensitive skin types.
Acid-based formulas
Chemical peels are highly popular treatments for hyperpigmentation, but how can you get a similar effect at home? Try Sensé Serum Intensive. This product is a true skin saver for those seeking younger, clearer-looking skin. The formula features a concentrated hydroxy complex that includes glycolic, lactic, malic, tartaric, and salicylic acids to dramatically boost cell turnover. This boost in skin cell regeneration is crucial to visibly eliminate dark spots and improve overall appearance and tone. When used regularly, you can expect beautiful results.
Sunscreen
Sun protection is one of the best measures you can take to help prevent hyperpigmentation, and avoid other signs of visible sun damage like fine lines and wrinkles. Use a daily moisturizer like Sensé Daytime Protective Emulsion that has broad spectrum SPF 15. Sun exposure is the leading cause of hyperpigmentation, so protecting your skin from damaging UV rays will help keep it clear and bright.
Well there's the scoop!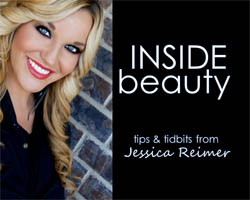 Jessica Reimer is a Senior Marketing Manager at USANA Health Sciences. If you have any stories, comments, or questions that you would like to see addressed in this feature, please send them to whatsupusana@usana.com.
To learn more about Sensé skin-care products, please contact Alison directly HERE!